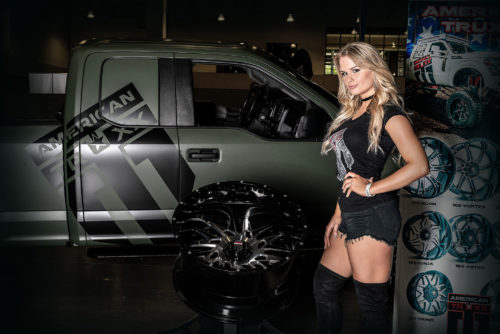 Even though temperatures soared throughout the state, the hottest part of Arizona was inside the Tucson Convention Center this weekend. The sizzling hot 2018 Kandy & Chrome Super Show featured hundreds of custom cars, bikes, food trucks, models, live music, and, of course, American Truxx.
For our debut run at Kandy & Chrome, we threw down with custom fabricated racks filled with new American Truxx wheel styles. We also featured
Wild Fire Detailing
's award-winning 'Mission 22' F150, as well as a sick metallic root beer coated 1500 from Whips Car Club (event organizer, Daniel Leyva), and a tricked out metallic blue Chevy Silverado from
@arod.media
 The real show-stopper was model
Lindsey Lockwood
, who did a FANTASTIC job as American Truxx brand ambassador for the event.
Coincidentally, a jaw-dropping '72 Chevy Blazer was on display near the stage. This old school beast was sporting 24 inch American Truxx AT-162 Vortex wheels.
The massive interest in American Truxx wheels at Kandy & Chrome proved that Arizona is thirsty for a new brand, and American Truxx is ready to deliver. Don't worry if you missed us at the amazing Kandy & Chrome Super Show, because American Truxx will be back in 2019!