Taking the World by Storm
American Truxx sizes up Diesel Darlin's Heroic Denali 2500HD
Words and photos by Paul Scott (unless otherwise credited)
---

Her actual name might be Mikaela, but to the folks here at American Truxx and those who follow her remarkable journey, she will always be "Diesel Darlin". We asked her to give us a little background. Here is what she had to say…
"I've been into building trucks ever since I can remember. I live in Texas but I have worked on the pipeline for the past 5 years and really enjoy being able to travel and work In new places all over the country. Which I use my truck to haul my camper where ever I go. I've always been a hard worker and take pride in my work ethic as well as being able to provide for myself. Set your dreams and goals high and don't stop until you reach them, I never thought I would have been able to build a SEMA truck, but I did! You can accomplish anything y'all put your mind to! Just keep moving forward."
As always, a big thank you and shout out to our friend Cris Payne at Truck Guru for bringing Diesel Darlin and American Truxx together! 
And when we asked her what she loved most about this build…
"I love how unique my truck wrap is. I picked STORM as the theme because it resembles how crazy of a life I live and also the character is a strong independent woman. The teal color is my favorite color and It by far catches everyone's eye when it drives by, I think that's the best, flashiest part of the truck."
You can see Storm in person at shows such as SEMA, Lone Star Throwdown, Heat Wave, and Scrapin' the Coast.
---
Build:

 
2015 GMC Denali 2500HD
There is no question that Storm stands out. Even in a packed truck show you don't need mutant super powers to pick out the electric teal graphics in a crowd. If you are in West Texas you might even see Storm up in the sky… on her very own billboard!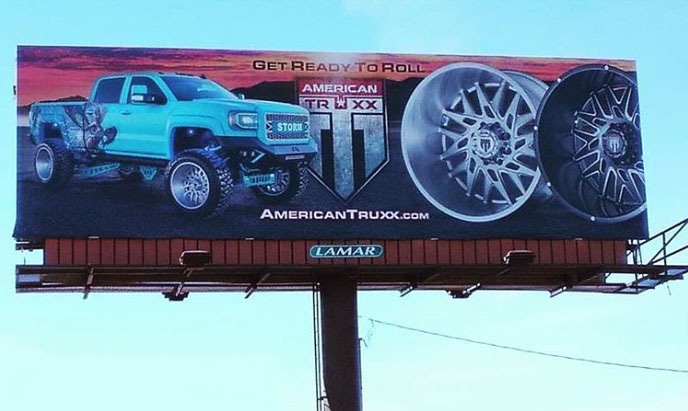 We are very proud that Mikaela and her Storm are part of the American Truxx team. Follow her and share her story on instagram and facebook.
---
Here's the run down on what went into building Storm: